The Adventures of Steve

Episode 6: SPINNING THE WORLD
Thursday, January 8, 2004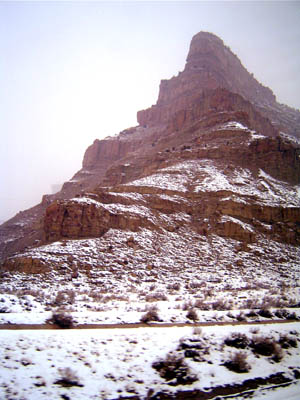 After two days of train travel, the floor is still moving. Where I am now, however, the room is spinning.
I'm here in the Dean For America Iowa Storm Center, where they're preparing for some 5,000 volunteers to arrive in the next few days and the joint is jumpin'. We're in an abandoned office building on the run down outskirts of downtown Des Moines (just a block from the John Kerry headquarters by the way).
I'm sitting in the bag room right now, squeezed between suitcases and coats, with giant cardboard boxes of hats and buttons and stickers blocking the window to the hallway. I thought I'd duck away for a bit, try to get the vertigo to calm down for a while, before throwing myself into the phone bank.
I'm certainly getting used to Amtrak travel, and I would have to say that I enjoyed seeing some new country, like southern Utah and the foothills of the Rockies. Today we passed through Nebraska and Iowa, and I took so many photographs of snow-laden villages nestled in the hills that I could make a picture calendar of them.
The five-hour delay due to the Amtrak ruined my plans to connect with the Jefferson Stage Line bus that I was planning on taking from Osceola to Des Moines. Luckily, I found Harold, a traveler from Rochester, Minnesota, who was getting off at the same place and he was more than willing to give me a lift to Des Moines. Then a six-block walk, and here I am.
I probably could use some more sleep right now, but it's just way too exciting here to sleep, never mind being able to concentrate on writing this. There's cell phone conversations going on all around me (they have a barrel of such devices for the campaign), there's rooms where the floor is covered with stacks of precinct walking maps, there's training rooms with people practicing their canvassing speeches, there's someone singing somewhere.
David, the guy in the next room, is from Tennessee (and sounds like it) and he's getting frustrated with all the "nos" he's getting from the people he's calling. So I just piped up with the standard Comic News sales cheerleading speech, about how it takes twenty-nine "nos" to get the "yes." So he's back at it, trying to rack up all the "nos" he needs to get his "yes."
Yes, I think I'm in the right place, at the right time. Time to hit the phone bank.