The Adventures of Steve

Episode 18: Columbus Day Three
Saturday, February 28, 2004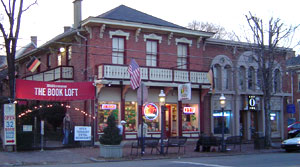 I am not home. Not by a long shot. But what is "home," anyway? Columbus is many things that, traditionally, are not me. So it's one of those opportunities to redefine what's me. And that's really what my adventure is all about.
Day three: I'm in a coffee shop deep in "German Village," a tree-lined neighborhood of square brick homes real close to the straight brick streets. I've walked here from the Arena District, through downtown and across the freeway. The ethnic/wealth makeup of the crowd around me shifts frequently and dramatically as I walk. It's a freakily warm sunny day, highs in the 60s, but there's still piles of frozen snow hiding along shadowy crevices.
My hosts, Lisa and Gary, have been nothing but hospitable and accommodating. They've connected me with lots of folks in the Dean campaign and Democratic Party, they've driven me all around town and they actually seem glad to have me in their home… at least for now.
I had my interview on Thursday, and it went, as far as I know, well. It went for more than three hours, all told, which tells me one thing. It seems like a great job and a fairly decent fit for me, and they really seemed to like me, but perhaps I'm overconfident. They were concerned about my ability to be loyal, thinking I just arrived in town on a whim and might be drifting off on another soon hereafter.
And, thinking about it, maybe the job isn't for me. Maybe, under the overarching theme of redefining myself, I need to find a career that doesn't have much to do with what I've done. Maybe I need to find something that I don't fit well into. Honestly, that feels a little intimidating.
But I'm just fretting. It's been two days and no more. I'll learn more on Monday, or when I check my e-mail.
This is a car-based town, no question about it. The transit service is very limited for such a metropolis, and I've seen only a few cyclists, mostly downtown messengers. I've been trying to find the pedestrian-friendly communities, and have had mild success. Lisa took me to a health foods co-op today, one of three in America's fifteenth largest city, and it was a bit like going home.
So many people ask me why I'm moving to Columbus from Eugene, when Oregon is such a beautiful place and it's so easy to live comfortably there. My responses are getting weaker: the more I'm here, the more I am missing my home. But there is something about Columbus that I'm picking up on.
I was racing to a bus stop on Cleveland Avenue on Thursday after my interview. I beat the bus, but then I had to scramble through my backpack to find five quarters. While I was frantically rummaging through my bag, a black teenager said quietly to me, "That bus ain't going nowhere with me standing here." In other words, I had no reason to panic, because she wouldn't let the bus leave until I was ready.
It's one of the many subtle, almost unnoticeable gestures of caring that I've experienced repeatedly over the last three days. It's not something I'm really willing to push as a sure difference yet, but in my initial estimate, I find that people in Columbus, individually, are unusually friendly and helpful. In Eugene, the community was warm and inviting but individuals were, in general, too self-absorbed to be concerned about others. Here, community is too disparate and diluted to be of much help, so people have to count on people.
Well, it's just a working theory, and it could all be attributed to luck at this point. But here's an odd thing that happened out of the blue.
I received a call yesterday from Mark Notestine, who runs a coaching business when he's not working at the OSU School of Medicine (that's OHIO State University, not Oregon). He's a business associate of Gary, and apparently he found my Web site and my story so intriguing, he asked me if I would participate in his Internet radio show on Monday night. The theme will be the necessity of change, and Mark thought that my personal embodiment of change in my life was fascinating enough to inspire business leaders everywhere.
(So the show will be at 5 p.m. Pacific Time Monday, March 1. To get to it, first go to www.onthemarkcoaching.com then follow the link there to the broadcast-hosting site.)
It's odd invitations like that that make me think that there's something below the surface here. Where comfort and stability are not quite so coveted, perhaps because they're too abundant. I don't know, it's just a vague concept right now but I'll keep looking into it.