The Adventures of Steve

Episode 10: HYGEINE FOR DEAN
Monday, January 12, 2004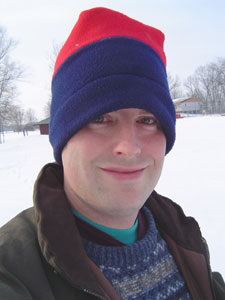 Right now, there is a TV crew standing next to me interviewing people. Apparently the idea that people are willing to stay in a "winterized cabin" for Howard Dean is pretty novel. Yesterday, we had four film crews out here in the morning.
It's been a bit challenging being on the media stage here. One night my van arrived in camp right before midnight. I came into my cabin to find a photographer for the Kansas City Star there, snapping shots of my laundry. If that wasn't invasive enough, he was still there after I washed up and was ready to hit the hay. I waited a bit and said, "Well, can we help you?" "Nope," he said, "just waiting for the right shot." "Okay boys," said I, "let's go to bed so this guy can get pictures of us sleeping and go home." "No no no," the photographer says, "it has to be natural." I wasn't about to drop my drawers for a newspaper photographer, so I went outside and made some phone calls and waited for him to leave.
Yesterday, we had about fifteen minutes notice before the CBS, NBC, CNN and Washington Post people arrived. That was enough time to hastily get decent for the media. I'm a bit slower about getting up than others, so I was still shaving when the NBC crew burst into my cabin. They filmed me doing that and putting my shoes on. They also escorted me to the bathroom house and shot me washing my face and brushing my teeth.
On the way back to the cabin, Dan, a friendly guy from San Diego who had been chatting up the NBC guys with me, said that we were nothing but "media whores." Willing to do anything for the camera, brushing our teeth, shaving, whatever. "Hygiene for Dean!" I shouted.
It's true, we were willing to do anything for the cameras. Many of us were scheduled to have a meeting at 10:00, but we called into headquarters and they were perfectly willing to postpone it for more media coverage.
Yesterday afternoon, I got an excited call from Wade who reported my eight seconds of fame on the NBC nightly news with Tom Brokaw. Shaving. He reports my quote as: "Gotta look professional."
Today, we got a second round of cameras, this time ABC and New York Times. The media relations lady was rounding up the post-25 crowd and herding us into one cabin, so we could try to shatter the "Deanie-babie" motif. There was Bill, a World War II vet, who became something of a celebrity himself being 81 years old. He appeared in so many newspaper and magazine stories, some of the reporters would ask for him by name.
While sitting on a bunk, I decided to bust out my laptop to try and catch up on some writing, and sure enough, this attracted the cameraman's attention. Willing to do anything for the camera, that's me.