The Adventures of Steve

Episode 1: Calm before the storm
Thursday, December 25, 2003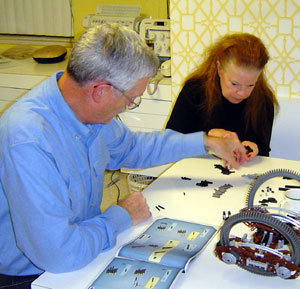 I left Rancho Cordova fourteen years ago and here I am, back again. I am sleeping in the room I grew up in. The furnishings are all different but I still recognize some of the patterns found in the asbestos spray ceiling. The house has evolved a tad, but some things here that I remember so well have disappeared a long time ago. My parents haven't really changed at all, at least not in my eyes.
It's late on Christmas Day here and it's been a day of family activity and entertainment. I've seen what big families do on this day, and it is quite a contrast to my little family of three. I am thankful that I have family.
I left Eugene last Sunday morning. I will never forget the sight of my friends waving me on as Dad turned the car south. They were my family for those long years in Oregon. And I'm flying the nest again.
Although I must admit that I have made no significant effort to contact my fellow Dean campaigners, I have no further details on my upcoming trip to Iowa. But that's okay. This week has been about being an honored guest and a son. Next week I'll fret about leaving home again.
Leaving Eugene, once the die was cast, was too easy. So easy, I never really felt the pain of wrenching up all my anchors. The last month flew by in an amazing rush. I unloaded more than half (by weight) of my possessions, hosted five parties, received gobs of gifts, packed up what I was keeping, and said goodbye one or two times too many.
Not a day has gone by that I haven't felt the gaping sadness of leaving beloved friends. I have no desire to return to Eugene, which makes the pain of departure a little more poignant, because I know there are some of my friends I won't see again.
Sad, yes, but workable. My departure wasn't necessary, but underneath my stability, constancy and dependability, I have a wild hare for adventure. It's what led to the "why not?" decision to go to China last year. And right now, I am so thrilled to be getting involved in an upstart underdog grassroots political campaign that could really make a difference in how the future shapes up. In fact, I'm tickled pink.
Later on this week I'll let you know how the Iowa plans are shaping up, along with updates on what's happening right here in the Ransom household.
Finally, my Christmas gifts from my parents: Lord of the Rings RISK game, LEGO 4481 Hailfire Droid, a wireless networking PC card, a sizable campaign donation, plenty of chocolate and a (new) grilled cheese machine. Do they know me or what?