The Adventures of Steve

Episode 35: Last flight of the Bantha
Thursday, November 18, 2004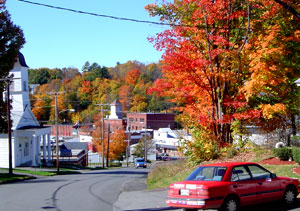 It's been two weeks since my adventures came to a fizzling finish. The climactic letdown of The Day After has led to a long unenthusiastic solace. The frenzied pace of campaigning took its toll: I slept for nearly two days afterwards. I then embarked on wrapping up my Maine life with an eerie collected stillness, far too laid-back for the circumstances, even for me.
I removed most of the bumper stickers from the Mazda (named "Bantha I") and did my best to clean it up. In the five months I drove it, I added 15,000 miles to the odometer. I embarked on one last drive through Maine to close out my post office box and pay my thanks to my Corinna host. One last downeast flight of the Bantha.
I will never forget Maine although it's likely I'll never return. Maine is an island, an odd cultural sanctuary, a lingering homage to those who lived with and by the water and the woods. It's certainly a part of the American landscape (there's more Wal-Marts there than you'd guess), but there's still a remnant colonial frontier spirit. It's not a migratory place: the people who are there have, for the most part, been there for a long time. But Maine's future is uncertain: the newer generations are leaving the traditions behind and many aren't coming back. I'll be mighty curious what Maine is like in twenty years.
Seventeen of my candidates lost. Thirteen were either elected or re-elected to serve in the Maine State Legislature. Of the thirty districts I was dealing with, we lost three of our seats to the Republicans and picked up three of theirs: a wash. Statewide, we lost seats but still held the majority of both the house and the senate. Towards the end of the campaign, I had focused on six candidates and only two of them made it in: disappointing, but not a total loss.
The real disappointment was Ohio. It was particularly galling that Kerry lost Ohio by such a slim margin because I had moved to Ohio in February knowing full well that it was the primary battleground state. I chose to leave Ohio in June to serve the 21st Century Democrats and wound up in Maine, far from the red-blue line. Of course the thought of "what if" weighed heavily on my mind Wednesday morning.
The car sold in two days after placing a cheap ad in the Kennebec Journal. I received less than half of what I paid for it, but I'm not complaining. I drove an average of 100 miles a day and didn't have time to keep the beast well maintained. It served its purpose and I'm glad to be done with car ownership. I was rather worried in those last days about what I'd do if I wasn't able to sell it.
I found an inexpensive flight from Boston to Oakland and returned to California on November 13. Since then I've been keeping quiet and sleeping in. The family is glad to have me back after my cross-country adventure, and for the moment, I'm glad to be here.
The sky here is completely overcast, and that's just about how I feel about my future right now. I'm thinking that I should, for now anyway, call California home and try to find some place near here that I can live in. Politics doesn't seem like the right thing for me, but I honestly don't know what is. As someone said on "Prairie Home Companion," I'm trying to figure out my place in the post-11/2 world. For now, the adventures are over.
I discontinued the Maine cell phone so if you've been trying to get in touch with me, please be patient as I get my finances re-aligned and my old Sprint phone re-connected. Send me a note and I'll let you know what my new number is once I have it.