The Adventures of Steve

Episode 13: The day after
Wednesday, January 21, 2004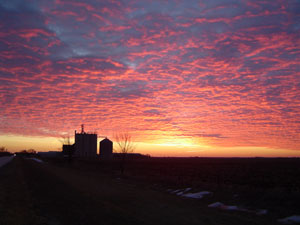 At 7:00 Monday night, there was nothing more we could do. The doors had closed and the caucusing was on. My entire crew was gone, and they had taken a lot of the signage and literature out of the Storm office. They even took the last of the water bottles and granola. I spent a few minutes cleaning up the office, throwing out the pizza boxes, bagging up the water bottles. Then I locked up and walked over to James' office to return the key and the cell phones.
My intention was to get to the camp, get my things, then head south to Des Moines for the victory party. I started driving to the camp and was surprised to hear that 43 percent of the precincts were reporting already, and the news was bad.
I decided to skip Des Moines. I felt completely deflated. It didn't seem possible that so much work would result in such a dismal showing. I knew there was a lot I didn't know, and I knew that I had done my job well, but there was no escaping disappointment. I also projected the results to the rest of the race and mourned that too. And I had a lot of doubts about the candidate I was supporting.
I got to Hidden Acres and saw I was the only one there. Sitting in the van, listening to the radio, I waited for Dean's concession speech and was actually a little horrified by the foaming-at-the-mouth listing of states he intended to conquer. I took a bath and slept for fifteen hours.
When I woke up, I felt a certain cold determination. I called Mike and asked if he would have objections to me just climbing into his truck and going wherever he was assigned next. I drove into town, listening to the conservative talk shows, starting to learn some of the reasons Dean lost Iowa. This topic, of course, would be the subject of talk throughout the day.
When I arrived in Des Moines headquarters, the place was mostly abandoned and in complete disarray. The few staff members left were trying to encourage us not to give up, talking about how insignificant this loss really was, but even their mood was less than ebullient.
I talked to some people about what to do next. I noticed that those who were driving on to South Carolina or New Hampshire were really fired up. I wasn't. I decided to pass on that plan and hooked up with the Californians who were taking the train back to Oakland. After several minor adventures involving driving fifteen rental vans to Omaha and getting lost there twice, we finally made it to the Amtrak station.
While we were there, the TV showed Conan O'Brien doing a piece on the Iowa candidates and he got quite some mileage out of Dean's "impassioned" state list. That was disheartening, but funny, and he also had Joe Lieberman fall asleep while threatening to crush his opposition, and a tiny Dennis Kucinich being carried off by a falcon. I laughed really hard, and it was completely therapeutic to counter the dreariness of the day.
I'm now deep in the Rocky Mountains, headed to the only home I have right now in Sacramento. I'm going to get grounded, do some laundry, and plot my next move. There are primaries in Washington and Arizona coming up, but I need to get re-invigorated in the campaign first. Do I have the power? I am uncertain.