The Adventures of Steve

Episode 36: Adventures in unemployment
Friday, January 14, 2005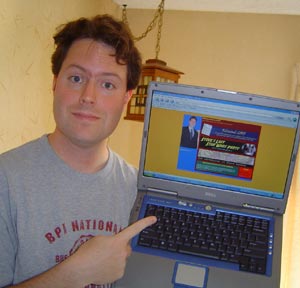 Hello friends! I've now been in Sacramento for two months. I've decided to stay here for the next few years so that I can be near my family, and therefore, I'm looking for employment right around here.
So the hunt is on. I've redone my resume (again), aiming for something more technical, less artistic. I've been through the classifieds a couple of times and sent in a handful of applications. I've taken my jacket out of the box I shipped it home in and taken it down to the dry cleaners. I've replaced my out-of-state driver license.
Of more interest to you, dear reader, would be the latest update of steveransom.com. I've reworked the whole site and it now features:
my new resume, my complete and lengthy employment history record, a complete portfolio of Web sites, and more entertaining reference letters than ever before.
all of the Adventures of Steve Ransom photographs, from departure to Iowa to return from Maine. There're 633 photos, with an index so that you can jump straight to one particular leg on the trip. I've also reduced the file sizes a bit so that they download faster.
for my Eugene friends (and others that can get there), you'll find a blog page about the next and last Star Wars party I feel tradition-bound to host this May when Episode III makes its debut. Also, another cool Flash animation!
See it all at steveransom.com.
Back on the subject of those photos, if anyone would like high-resolution versions of any or all of the images on the site, let me know and I can e-mail them to you or burn a CD for you.
Hope all is well with you, wherever the winds of 2005 have blown you.