The Adventures of Steve

Episode 31: Professional houseguest
Monday, June 28, 2004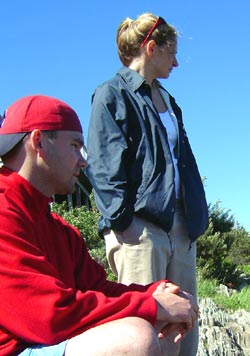 Meet Toby and Molly. Living together in a unassuming but graceful home on the banks of the Androscoggin River, these two gentle souls have been my nonchalant guardians for the past nine days since I was abandoned in the wilds of Maine by my so-called employer. I've been impressed by the simple love they have for each other and the easygoing attitude they have for the world. I've been something of a voyeur to a beautiful phase in their lives: they're getting married in three weeks.
Toby was quick to offer me a place to stay upon my arrival in his office Thursday before last. Of course, that was when we both thought I was going to be working for him, an assumption that was corrected the following afternoon as frequent readers may have observed. Toby trumped himself by offering me a job that day, a short-term job that I could take until my head stopped swimming and I had a plan again.
Toby introduced me to Molly and they set me up with a pile of futon mattresses on their basement floor. The basement also serves as their library and I've awakened each morning with shelves of seductive titles staring me in the face. With shelves on both sides of my bed-like area, it's rather like having to sail between Scylla and Charybdis just to leave the room. Most often, I get delayed by an interesting title or two.
Toby is a gruff, energetic fellow, currently in charge of helping Maine's Democrats win seats in the House. He's big into baseball (I think he was a semi-famous player once), very gregarious, and doesn't seem to be bothered by too much, but when he is bothered, it's not a subtle thing. He has a random sense of humor that I appreciate. Molly is casual yet carries a touch of sophistication. She's certainly well-educated and clearly does just fine with her own personal editing business, pinkeraser.com. (I knew when the Scrabble game was brought out, her experience spelled certain doom for me, my editing skills being amateurish, at best.)
Just a few blocks from Harriet Beecher Stowe's house on Federal Street, Molly and Toby enjoy a quiet sylvan location and a decent bit of Brunswick forest. They also have a black and orange cat named Bayley, whom I call Gollum Kitty due to her light-switch personality. "I love you, I'm so friendly, I'm so lovable, Rahr! I'll take out your eyes! Hsss! Stay away! Oh please, touch me more, I'm so nice!"
Last weekend Molly and Toby brought me on a minor excursion to "Land's End," where this finger of Maine reaches the Ocean. Much of this part of the state is water; due to ancient glacial patterns, there are long thin stretches of peninsula in rows with deep inlets in-between. The result is that water is just about everywhere, and I've been surprised on a number of trips by a boat-filled bay far inland.
In terms of being a houseguest, I could probably use a few lessons from Kato Kaelin. While Molly and Toby have not flinched or reacted in anyway to tell me that I'm a nuisance of any kind, I still feel somewhat unworthy of their generosity. As I result, I try to have the smallest impact I can in their lives and I'm afraid that's made me a little too aloof. It's a hard balancing act; I'd like to be friendlier, but they only just met me and they're already giving me much more than I need. Tonight, Toby encouraged me to pig out at their barbecue party, but instead I just shied away and found dinner elsewhere.
Perhaps it's that my tale just isn't quite as fun anymore. One of their guests discovered me and introduced himself and wondered about me. I didn't feel like sharing my predicament so I just said that it was a long story and left it at that. It's hard to feel socially powerful when I'm so dependent on others for my continued necessities.
So for the last week, I've been working for the Democrat's computer guy, Steve Frampton. He's had me working on collecting voter registration lists from Maine's more remote (and difficult to pinpoint) Townships. Maine, like Alaska, has a great quantity of mostly unpopulated territory, and it's from these places that the voter list (sometimes no more than 12 voters) is very difficult to acquire. I've been on the phone quite a bit trying to identify the people or person in charge of the lists in these distant areas.
Steve seems to be pretty happy with the help; he's offered me another week of work, and a place to stay, which I'm going to take him up on. I have no issue with Molly or Toby, and--as far as I know--they have no issue with me. I just want to get out of here BEFORE I outstay my welcome, not after. The impending wedding seems to create a growing atmosphere of exclusion, and while I'm sure that's my imagination at this point, it's coming up soon and I'm sure they'll be happy to have their basement back.
Steve lives with his wife and son on a farm somewhere southeast of Augusta, probably near the water. He's talking about trading chores for rent, things like feeding chickens. I'm all for that. I'm moving out there tomorrow evening and I'm hoping it'll be an equally pleasant place to lay my head.
As for my actual plans, I just don't really know. Gary from Columbus called all excited about a job possibility with a county commissioner candidate. After a quick bout of cold feet, I asked for more details and I've been essentially on hold since then. Maybe something will pan out there, but it doesn't seem likely.
Or I can continue to do data management for the Maine Democrats. It is not the most glamorous work (little in politics is) but it's something I can do well and I don't mind not having to program Web sites for a change. The commute is a bit of a bear, and I really do feel like I'm in someone else's shoes when I spend forty minutes on the freeway twice a day. Today, Bantha I received a much-needed oil change. The car hit the 2,500-mile mark this weekend, 2,500 miles since Columbus, 2,500 miles with me at the wheel.
In terms of getting a real solid game plan for the remainder of the campaign season, I'm still trying to recover from the slapdown I received from the 21st Century Democrats. I did learn of perhaps the chief reason I was dumped by them: Dotty Melanson, the boisterous, shoot-from-the-hip chair of the Maine Democratic party, apparently called my so-called employers when she heard of my situation and let the fur fly. Her manner is generally neither diplomatic nor warm, so I can see now how fed up Toni might have become with me.
Several of my faithful readers have written to me and suggested that I am in Maine for a reason. I don't think I'm fighting that right now, but I'm not seeing it either, and I do feel quite displaced, or rather, unplaced. I'm sure things will shake out just fine. But for the moment, I'm feeling a bit up in the air.